Stamp River Winter Steelhead Report
Friday January 25, 2013
Come on Rain!

So far no change in the river from the recent rain. Looking at the local weather, we should see another 30-40mm in the next couple of days. Hope it is enough to move the river. It takes a lot of rain to fill up both those big lakes. They are calling for 6-8 degrees here today and with a bit of luck some rain will make it to the hills. Yesterday was blizzard heading to the coast so that rain/snow didn't do use any good. The end of Sproat lake has three feet of snow on the ground.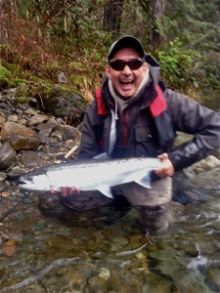 The odd fish making it into the river right now but still not even a trickle. Hopefully it will happen in the next couple of days.

When it changes I will update the report.

We have space most days especially during the week.


Unlike other guides on the Stamp we make sure that you catch the fish. Many of the other guides on the Stamp are great fisherman but I see more often than not they are hooking the fish and handing them off to there guests. Our guides will only fish if prompted by our guests and it doesn't happen very often.

We offer accommodations on the river as well as the best guides around. We supply all the equipment and everything you need for a successful day. Sign up for our newsletter or like us on Facebook and you will always have the latest information.
David Murphy
Call anytime for the latest conditions and reports
250-723-8022
murphy@island.net