Stamp River Winter Steelhead Report
March 26, 2013
Still a Few Around

It is getting to the end of winter steelhead and we are still seeing a few nice fish coming into the Stamp, as well as the mix of darker fish and kelts that are heading back out. The recent rains have provided some decent days this week. Not on fire but 3-5 has been the norm for the past few days.

We have been concentrating on the upper river for the better part of the last three months, as the lower river has been very inconsistent since Christmas. Word on the street was that fishing was poor, so we had the entire river to ourselves since mid January. No big number days but quality trips every time out.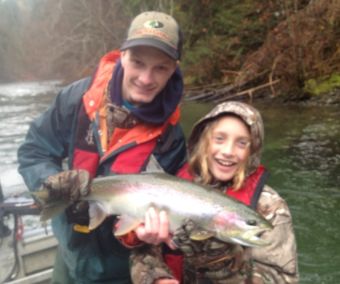 Rolly sported the drift boat for at least 40 days this winter, which is a big change from power boating in high water. Glad we kept the Hyde drift boat and the NRS raft, as they have been sitting idle at the shop for a bunch of years. This winter was the longest stretch of low water that I can remember and that is going back 25 years. With a bit of luck this is a one off event.

The photo on the left is Rolly's two children Cole and Nyla who finished off their spring break with a nice Winter Steelhead from the upper Stamp River.



The ocean fishing is just around the corner and I will change the report to an ocean report starting in a couple of weeks.

What we do:

Unlike other guides on the Stamp, we make sure that you catch the fish. Many of the other guides on the Stamp are great fisherman but I see more often than not, they are hooking the fish and handing them off to their guests. Our guides will only fish if prompted by our guests and it doesn't happen very often.

We offer accommodations on the river, as well as the best guides around. We supply all the equipment and everything you need for a successful day. Sign up for our newsletter, or like us on Facebook and you will always have the latest information.
David Murphy
Call anytime for the latest conditions and reports

250-723-8022
murphy@island.net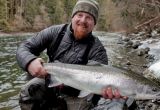 Winter Steelhead Fishing Options from $225
Fully guided day trips with all equipment. You set the agenda based on how many days you would like to fish!
Trip Details »