"Fill yer' Boots!" Kyuquot Producing Strong Results
July 14 2013
Chinook - Coho - Halibut Limits are the norm.




Limits are being achieved on a regular bases in Kyuquot so far this season.

Even on the first evenings which are often slower than the main full days some big Chinook and nice quantities of Coho are being encountered. The afternoons have been windy with the westerly winds but today a welcomed overcast has calmed the seas flat. Warm weather (not hot) is our preferred choice as it means less afternoon wind.

In a couple of days we will be shifting the majority of our effort to the famous "Super Salmon Highway" that is offshore Kyuquot. This year the early season "beach" fishing has been phenomenal. Yesterday just a few short miles outside of lookout things really lit up with several fish at both camps pushing the Tyee category.

Fishing with hootchies or spoons behind red or green hot spot flashers has been the most productive. Shorten up the leaders for Coho and you will be kept very busy!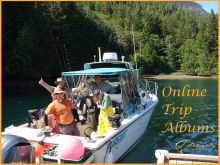 For a real testimonial of this past weeks trip check out the
online trip albums
, here we post a variety of guest experiences all season long.
Limits are very generous:
2 Chinook per day/4 possession
4 Coho per day/ 2 of which may be wild (inside area 26)
2 Coho per day/hatchery only (offshore area 126)
1 Halibut/2 possession / Slot limit requirements
3 Ling cod/ 6 possession
We have some trips still available for Kyuquot. Including some last minute specials for this coming week. Drop us a note for dates!
This will be 17 years for us fishing in Kyuquot Sound. There is no other better place to be as we meet the great migration of all Southern bound Chinook stocks along the shelf.
We offer accommodation, all meals in our guided packages as well as the best guides around. We supply all the equipment and everything you need for a successful day. Sign up for our newsletter, or like us on Facebook and you will always have the latest information.
David and Marilyn Murphy (brother and sister team)
Call anytime for the latest conditions and reports

250-723-8022
murphy@island.net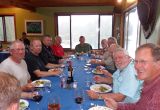 Kyuquot Sound Lodge
Nestled in the tiny village of Kyuquot, our land based lodge is just minutes to the fishing grounds. This location has 800 feet of water front, with plenty of room to stretch your legs. Your equipment and guides are top notch and the lodge accommodates up to 35 guests
Trip Details »