New Stamp River Coho Run Timing Record Set !
Sept 4 2013
Over 15,000 Coho in the river already

Anticipating a week's rest off the water after our full season in
Kyuquot
, we are running full steam now to race to get all of our fresh water guiding equipment in the river. We just got home on Monday to find the counters on the Stamp and Sproat Rivers rolling over thousands of Coho per day.
Indeed a big run is expected but if this trend holds true, relative to prior year run timing curves, this will be a year to remember. So far there are over 11,500 Coho through the Stamp River and another 3,500 through the Sproat River. This is over 15,000 Coho already in the rivers!
We offer accommodation, all meals in our guided packages as well as the best guides around. We supply all the equipment and everything you need for a successful day. Sign up for our newsletter, or like us on Facebook and you will always have the latest information.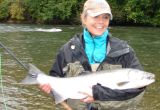 River Salmon & Steelhead Trips
Thousands of Salmon by your doorstep. Your package is customized to suit your schedule on your time. Five day specials including airfare or drive in day trips. Your trip - Your way - Great fishing and hospitality!
Trip Details »
David and Marilyn Murphy (brother and sister team)
Call anytime for the latest conditions and reports
250-723-8022
murphy@island.net