Increased River Levels Heat up Spin Fishing Action
Sept 25 2013
We have had great fishing for Coho on the fly since about the 10th of September but that being said we have had a bump in water that has changed the game a bit and fly guys did not hit any Coho yesterday. The spinner guys are doing very well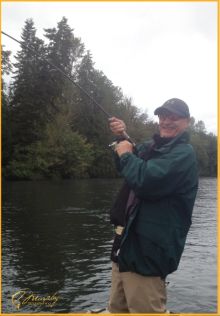 on the Stamp Somass System. The guys fly fishing for Steelhead on nearby rivers were into 6 yesterday. A few of the groups went to the smaller rivers today to try for Coho and bright chum on the fly.
The weather forecast looks very good and with a bit of luck our fly guys will have success again in a couple of days.
Our Coho return is very big this year and it could very well be the biggest ever for this river. Normally the peak is this week but with the recent rains we could be a little ahead of schedule.
Water was a little murky yesterday and it was hard tell how many were moving by us.
Better today but the water is still up a foot or so and the fish are moving in small groups very quickly.
In October we get a lot of Steelhead, especially just after a rain.

Fish Through the Counters as of Sept 23
Through September 23, a total of 43,704 adult coho, 2984 coho jacks, 14,672 adult Chinook, 459 Chinook jacks, 88,925 adult sockeye, and 93,507 sockeye jacks are estimated to have passed through the Stamp falls fishway. Through September 21, A total of 9607 adult coho, 651 coho jacks, 6 adult Chinook, 121,484 adult sockeye, and 332,135 sockeye jacks are estimated to have passed through the Sproat falls fishway.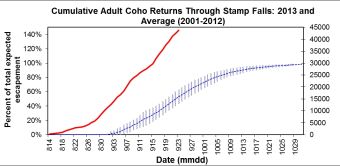 River Temperature Trends as of Sept 23
River temperatures have decreased in the past few days and over the past week have ranged between 19.4 and 21.2oC at the Sproat fishway (Figure 4). Temperature data from the Stamp Falls fishway is currently unavailable because the HOBO environmental monitoring system is experiencing technical difficulties. The discharge rate is moderate.



This weeks featured menu items at Murphy's Riverside Lodge
This season brings fresh new
"Haute cuisine"
to the Riverside featuring Chef Matt Dunk. His five course gourmet preparations are being enjoyed by guests with rave reviews. Here is some samples from this weeks menu.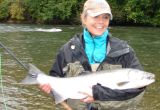 River Salmon & Steelhead Trips
Thousands of Salmon by your doorstep. Your package is customized to suit your schedule on your time. Five day specials including airfare or drive in day trips. Your trip - Your way - Great fishing and hospitality!
Trip Details »
We offer accommodation, all meals in our guided packages as well as the best guides around. We supply all the equipment and everything you need for a successful day. Sign up for our newsletter, or like us on Facebook and you will always have the latest information.
David and Marilyn Murphy (brother and sister team)
Call anytime for the latest conditions and reports
250-723-8022
murphy@island.net