Good Conditions - More Fish on the Move
Stamp River back in shape and great Coho Days
October 10 2013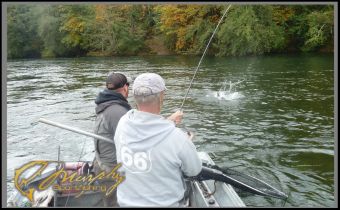 Perfect conditions for fishing prevail once again on the Stamp River. Although the river is moderate, its clarity is excellent and it is dropping fast. for good boat fishing. Gear fishing has been best in the Lower section while Fly fishing is good in the Upper Section. The photo below is of a beauty Wild Steelhead that was released. Now that the Chinook are spawning the Steelhead are biting. We expect the next two weeks to be focused on both Coho and transitioning to Steelhead in early November.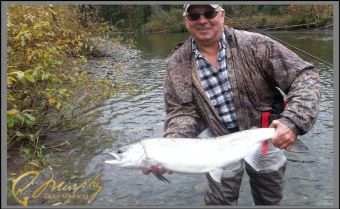 With the good news on Chinook abundance, more of the river has opened up to Coho Fishing including the upper area above the lagoon. There are over 50,000 coho in the River now so imagine how many fish anglers can see in a day. The bears have been out in full force as well bulking up in preparation for the winter hibernation. Look forward to continued Coho and increasing Steelhead encounters in the next two weeks. The weather is all lined up for a great week.
| | | |
| --- | --- | --- |
| The last ten days we have hosted anglers from all over the world including BC, Alberta, US, Spain, Germany, UK, Denmark and more. Dave and Helen from the UK weathered the week of high water rains and did fantastic. Willing to jet boat and hike into some more smaller streams and fishing for Chum, Coho and Steelhead. This is Davids second trip with us in two years. Congratulations to Helen on her very first angling adventure of any kind! | | |
Fish numbers through the counters to date as of Oct 10:
The cameras had to be removed from the Stamp Falls fishway for part of the past week due to
high river flows causing the cameras to flood. Therefore, there is no video footage from
September 30th until late in the day on October 4th, and escapement estimates for this time
period were estimated based on the trends in escapement seen at the Sproat Falls fishway.
Through mid-day October 7, a total of 48,592 adult coho, 3471 coho jacks, 22,581 adult
Chinook, 583 Chinook jacks, 88,984 adult sockeye, and 93,544 sockeye jacks are estimated to
have passed through the Stamp falls fishway. Through October 6, a total of 14,171 adult coho,
1050 coho jacks, 51 adult Chinook, 122,026 adult sockeye, and 333,868 sockeye jacks are
estimated to have passed through the Sproat falls fishway.
Since September 30, daily escapement counts through the Stamp Falls fishway ranged between
125 and 675 adult Chinook, and 56 and 335 adult coho. Adult sockeye daily escapement since
September 30 ranged from 0 to 20 at the Stamp falls fishway. Since September 30 there has
been a pulse of sockeye through the Sproat fishway, with daily sockeye adults ranging from 11
to 196 and daily sockeye jacks ranging from 69 to 431.
River Temperature Trends as of October 10
The discharge rate is still high but has decreased over the past week and river temperatures
have continued to decrease. Over the past week river temperatures have ranged between 15.7
and 17.1oC at the Sproat fishway (Figure 4). Temperature data from the Stamp Falls fishway is
currently unavailable because the HOBO environmental monitoring system is experiencing
technical difficulties.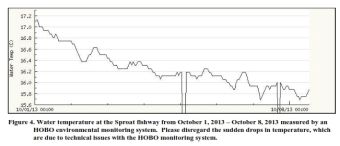 The Weather Forecast

This weeks featured menu items at Murphy's Riverside Lodge
This season brings fresh new
"Haute cuisine"
to the Riverside featuring Chef Matt Dunk. His five course gourmet preparations are being enjoyed by guests with rave reviews. Here is some samples from this weeks menu.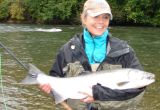 River Salmon & Steelhead Trips
Thousands of Salmon by your doorstep. Your package is customized to suit your schedule on your time. Five day specials including airfare or drive in day trips. Your trip - Your way - Great fishing and hospitality!
Trip Details »
We offer accommodation, all meals in our guided packages as well as the best guides around. We supply all the equipment and everything you need for a successful day. Sign up for our newsletter, or like us on Facebook and you will always have the latest information.
David and Marilyn Murphy (brother and sister team)
Call anytime for the latest conditions and reports
250-723-8022
murphy@island.net