Steelhead Eating Salmon Eggs
Low and cooling water conditions prompt the Salmon Spawn
October 24 2013
The third week of October is a transition time when the focus changes from salmon to Steelhead. Thousands of Chinook salmon have now spawned and tens of thousands of Coho are still swimming in the river and lakes waiting for their time.

Where the Steelhead were hiding when all these salmon where making their into the river is anyones guess. They just seem to show up. Not fresh from the ocean but literally just show up in the river.
Fishing with bait casting gear using artificial bait and wool for Steelhead. Casting Spinners or flies for Coho in the upper river. The lagoon is now open for Coho as well.
Effort in the river is dropping so there is very little pressure in the best spots on the river. Watch for the river to continue to drop and lighten up on gear size (line and lure size).
With the popularity of Steelhead fishing, we moved our 4th boat into the upper river. Last week more Coho moved in and the lower river got another good push of fish.

You can still anticipate good fishing opportunities in the middle and lower sections. This should be a good week for those who are coming anticipating the Steelhead to be on!

Learn more about Steelhead on our Steelhead pages.

Fish numbers through the counters to date as of Oct 21:
Through October 21, a total of 50,725 adult coho, 3734 coho jacks, 28,437 adult Chinook, 666 Chinook jacks, 89,022 adult sockeye, and 93,604 sockeye jacks are estimated to have passed through the Stamp falls fishway. Through October 21, a total of 14,038 adult coho, 1087 coho jacks, 111 adult Chinook, 122,198 adult sockeye, and 334,132 sockeye jacks are estimated to have passed through the Sproat falls fishway.
Since October 14, daily escapement counts through the Stamp Falls fishway ranged between 72 and 385 adult Chinook, and 20 and 132 adult coho. Adult sockeye daily escapement since October 14 ranged from 0 to 5 at the Stamp falls fishway. Sockeye continue to move through the Sproat fishway, with daily sockeye adults since October 15 ranging from 2 to 28 and daily sockeye jacks ranging from 0 to 15.
River Temperature Trends as of October 21
The discharge rate is moderate and over the past week has continued to decrease along with river temperatures. Over the past week river temperatures have ranged between 14.2 and 15.0
oC at the Sproat fishway (Figure 4). Temperature data from the Stamp Falls fishway is currently unavailable because the HOBO environmental monitoring system is experiencing technical difficulties.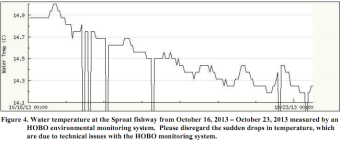 The Weather Forecast

This weeks featured menu items at Murphy's Riverside Lodge
This season brings fresh new
"Haute cuisine"
to the Riverside featuring Chef Matt Dunk. His five course gourmet preparations are being enjoyed by guests with rave reviews. Here is some samples from this weeks menu.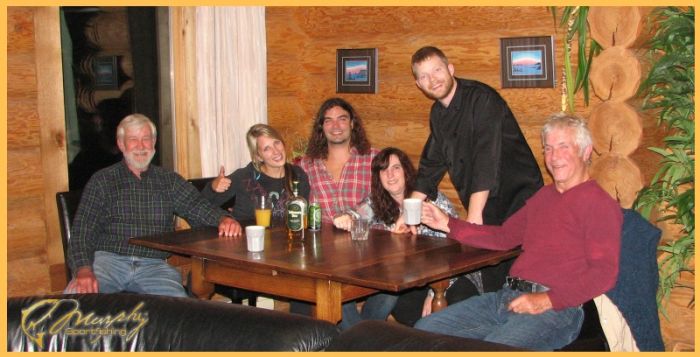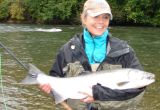 River Salmon & Steelhead Trips
Thousands of Salmon by your doorstep. Your package is customized to suit your schedule on your time. Five day specials including airfare or drive in day trips. Your trip - Your way - Great fishing and hospitality!
Trip Details »
We offer accommodation, all meals in our guided packages as well as the best guides around. We supply all the equipment and everything you need for a successful day. Sign up for our newsletter, or like us on Facebook and you will always have the latest information.
David and Marilyn Murphy (brother and sister team)
Call anytime for the latest conditions and reports
250-723-8022
murphy@island.net