Wicked Salmon and Westerlies!
Peak Season Heat
Aug 2014

Cheers from Kyuquot!
Fishing this week was nothing short of spectacular. Fishing out of Murphy's Sportfishing Lodge there was an abundance of fish, food and fun.
Chinook:
We were fishing out approx. 10 miles offshore in 260 feet of water. Silver Horde 6" plugs were the go to lure as we were attempting to find big fish. Action was solid with chinook between 16 and 18lbs seeming to be in the majority, but the occasional fish over 20lbs hit the decks frequently. Our largest Chinook for the trip was at 24lbs. Plugs were fished between 160 and 220ft down, 50 feet behind the downrigger and trolling at 3 knots.


Cookies and Cream are not only a favorite in the States but these Canadians love them! The most consistent combination was a 6" Cookies and Cream spoon fished naked, with a X2 Green UV Flasher used as a dummy flasher – or Ace in the Hole. We modified our 6" White Lightning spoons by putting a red "eye" on them and they were attracting the fish almost as well as the Cookies and Cream. The spoons were fished 15 ft behind the release clip on the Scotty's and we were trolling at a speed of 2.6 knots.





Coho:
Sometimes Coho are just dumb… or I should say when they are hungry they are dumb. They were so thick at times we'd have to drop our riggers super-fast with a 20lb ball to get through them when targeting the Chinook. Didn't seem to matter what we were using as if you detached from the downrigger to check the bait it never failed as a Coho would almost surely hit your presentation – they didn't always hook up, but they would swipe it.

How dumb are they? I had a Coho belly strip hanging over the side of the gunnel ready to be submerged in search of halibut. I caught a 6lb Coho as it jumped out of the water to grab the belly – unfortunately for him it grabbed the hook also. Seems at this time of year they're cannibalistic.













Now, when we were targeting Coho (just the last day) things changed. We were fishing 30 to 60 ft down with
an X2 Flasher and Silver Horde Kingfisher Lite spoons (Cookies and Cream or the Kitchen Sink). Oh, we caught our share of Coho but now the Chinook were up top ripping at our gear as well. We were catching Chinook over Coho about 10 to 1.

Lingcod:
Wow – talking about instant hookups. Using white darts with green/blue backs (Not sure what they called it but it is SeaHawks Colors) we couldn't keep the lings off. Many times we'd hookup as the dart would approach the bottom. If no fish by time you engage your reel then it generally only took a few hard/fast jigs to get your fish. The limit was 3 each per day as we managed to get our ling in about 5 drops – the other two drops had yelloweye on them. Our largest ling for the trip was about 15lbs – the average about 8.


Halibut:
Chicken halibut were no problem to find. Using a GoldStar Green Glo Hoothie over bait outfished a just plain bait by 4 to 1. Trying to find our larger hali's proved to be a tougher task as we were able to only land one large hali between the two of us. But that was our choice. We opted to fish for halibut fast so we could spend more time fishing for salmon.
BC Regulations allow you to catch one halibut per day and two halibut in possession, only one of which can be over 90cm (25lbs) and under 133cm(60 lbs) or two under 90cm (25lbs).
Camp chef Matt fed us good and prepared some incredible meals each night, consisting of fresh fish caught from earlier in the day by some guest who donated to the cause.
All the guides knew what they were doing and knew how to fish. They all said Murphy's puts them through a series of "on the water" tests before hiring them. They definitely want their guest to be on fish – and they all were. All guests went home with their allotment of salmon and most went hope with full possession limits of bottomfish as well.

A special thanks to Marilyn Murphy for one of the best trips you could ask for.
Submitted by Terry Wiest, Salmon/Steelhead University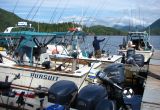 Kyuquot
On the Wild West Coast of Vancouver Island where the continental shelf meets the Island millions of Salmon migrate right by our doorsteps. You can be here too.
Trip Details »
We offer accommodation, all meals in our guided packages as well as the best guides around. We supply all the equipment and everything you need for a successful day. Sign up for our newsletter, or like us on Facebook and you will always have the latest information.
David and Marilyn Murphy (brother and sister team)
Call anytime for the latest conditions and reports
250-723-8022
murphy@island.net
Visit my Facebook page as i have been adding a lot of video's lately.


---

New for 2014!