Winter Steelhead Fishing Report
March 28 2018

Season Completed

Overview:
With a much slower than average Winter Steelhead season now behind us, we finish the program on a very positive note!

Robertson Creek Hatchery runs the Stamp River Steelhead Enhancement Program and they had a successful egg take of 110,000 eggs.

Congratulations and thank you to all involved in capturing the brood stock and collecting the eggs.

Next up is Ucluelet for Chinook and Halibut...
The future looks good!



Starting May 1st: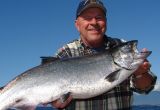 Ucluelet Guided Day Trips
Vancouver Islands best early season fishery for April and May. Salmon and Halibut aggressively feeding on the coastal banks and inshore waters of Barkley Sound. Book by the day means you can set your own agenda!
Trip Details »
Call anytime for the latest conditions and reports
250-723-8022
murphy@island.net
Professional Contributor to:
Fishtactics
~
Alberta Outdoorsmen Forum
~
Fishing with Rod
~
BC Outdoors Magazine