Stamp River Steelhead & Barkley Sound
Transitional Week
April 14 2014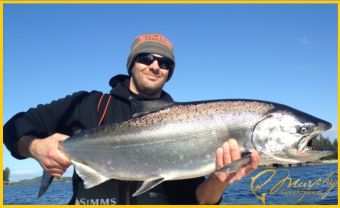 This past week still some Steelhead being encountered in the upper Stamp River. Many have spawned now and are heading back out to the saltwater. Good fly fishing options this time of year.

Barkley Sound is heating up with early Columbia Chinook Salmon now feeding in the area. These are mature fish and the bite is on.

Our boats will be starting up next week in the inshore and offshore areas out of Ucluelet including the protected waters of Barkley Sound
Please feel free to call or email for an up to date report.

Winds look great for this coming week. Light to variable. Click on the map to visit an enhanced animation of the forecast conditions.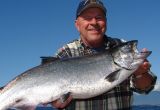 Ucluelet Guided Day Trips
Vancouver Islands best early season fishery for April and May. Salmon and Halibut aggressively feeding on the coastal banks and inshore waters of Barkley Sound. Book by the day means you can set your own agenda!
Trip Details »
We offer accommodation, all meals in our guided packages as well as the best guides around. We supply all the equipment and everything you need for a successful day. Sign up for our newsletter, or like us on Facebook and you will always have the latest information.
David and Marilyn Murphy (brother and sister team)
Call anytime for the latest conditions and reports
250-723-8022
murphy@island.net
Visit my Facebook page as i have been adding a lot of video's lately.


---

New for 2014!