Stamp River Winter Steelhead Report
Low water conditions with fresh fish showing
Jan 16 2014
This recent low water spell must has been a new rainfall record for for November and December. I can only remember one other year like this one. I can remember it but I couldn't tell you what year. We have been having intermittent rain the last 6 days and looks like the trend for the next week or so. The lower river has started to rise and hopefully we will get a good flush to get us going.

Winter fish are now spread out through the entire system now. We have caught nickel bright as far up as the Ash River this week. They are not many but more and more every day. The lower river has also seen a few little bumps of fish this past week. If you are lucky enough to be on them when they are going by you can get a few. This rain will murk up the river and get a few schools by the troll seal under the bridge.

Our guides are out everyday and feel free to call for a report.

Visit my Facebook page as i have been adding a lot of video's lately.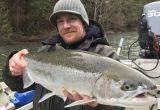 Winter Steelhead - Guided Day Trips
Fully guided day trips for two persons by jet boat includes all of the equipment.
Trip Details »
We offer accommodation, all meals in our guided packages as well as the best guides around. We supply all the equipment and everything you need for a successful day. Sign up for our newsletter, or like us on Facebook and you will always have the latest information.
David and Marilyn Murphy (brother and sister team)
Call anytime for the latest conditions and reports
250-723-8022
murphy@island.net