Kyuquot Fishing Report - Vancouver Island
Continually super fishing this summer so far

Salmon/Halibut/Ling Cod/Tuna Weekly Report:
July 30 2015

The fishing this season has been simply superb. Loads of medium sized Chinook from the edge all the way to the surfline. Last week the night bite was on fire but now as the tides are progressing to a morning bite tide we expect more early morning action.

Check out This Weeks Online Trip Galleries to view how each trip did overall.
The fish are deep, in the bottom twenty feet of the water column regardless of where we are fishing.
Trolling using Gibbs Highliner flashers with hootchies or spoons. Bait just slows things down so no need to fiddle with it.
Halibut sizes have been generous as well with both fish within their size categories being easily attainable. Interesting note is that more Sole are present this year so seeing some of them in our incidental catch.
The weather was great the last two weeks with a couple of small south easters that brought rain mixed with some gray days....yes rain...hard to believe. This kept the westerly winds down so it was great sea conditions.
We are back to a westerly pattern with clear skies this week but so far the winds have not been big.

Feel free to email any time for the latest conditions.
We offer accommodation, all meals in our guided packages as well as the best guides around. We supply all the equipment and everything you need for a successful trip. Sign up for our newsletter, or like us on Facebook and you will always have the latest information.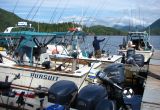 Kyuquot Cancellation Special!
Wow, Save $495 per person, and join us for only $1500 on this last minute cancellation fill in special. Based on Triple Occupancy. Check out the dates!
Trip Details »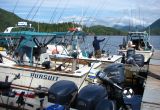 Kyuquot
On the Wild West Coast of Vancouver Island where the continental shelf meets the Island millions of Salmon migrate right by our doorsteps. You can be here too.
Trip Details »
Stamp/ Somass Rivers Summer River Update:
Note summer warm water conditions persist, please see our
river update notice
for information about the summer and fall fisheries.
David and Marilyn Murphy (brother and sister team)
Call anytime for the latest conditions and reports
250-723-8022
murphy@island.net
Professional Contributor to:

Fishtactics
~
Alberta Outdoorsmen Forum
~
Fishing with Rod
~
BC Outdoors Magazine
---