Transition week Salmon to Steelhead
STrong Salmon Returns > Steelhead Action
Fishing Report Oct 15 2014


Greetings from the
Stamp River
in the Alberni Valley
Chinook, Coho and Chum are all migrating on time in the local rivers and the Salmon are starting to spawn.
The Steelhead
have made themselves apparent again in both the Stamp River and neighboring tributaries
Rains have bumped up the river levels back to near normal allowing for perfect Salmon migration and spawning access.
Salmon Migration Update:
Through October 12, a total of 14,591 adult Chinook, 5,914 Chinook jacks, 34,278 adult coho, 2,649 coho jacks, 109,635 adult sockeye, and 60,737 sockeye jacks are estimated to have passed through the Stamp falls fishway. A total of 31 adult Chinook, 9,899 adult coho, 272,871 adult sockeye, and 107,021 sockeye jacks are estimated to have passed through the Sproat fishway.
Over the past week, daily escapement counts through the Stamp Falls fishway ranged between 354 and 1059 adult Chinook, and 337 and 1488 adult coho. Adult sockeye daily escapement over the past week ranged between 9 and 27 at the Stamp falls fishway and between 78 and 190 at the Sproat fishway.
River temperatures over the past week have ranged between 16.2 and 18.8C at the Stamp Falls fishway (Figure 4), and between 18.1 and 19.7oC at the Sproat fishway (Figure 5). The discharge rate is high.
Note: Salmon escapement estimates in this bulletin are preliminary, based on an initial digital
This weeks Weather Forecast:




Last Weeks River Temperature Trend: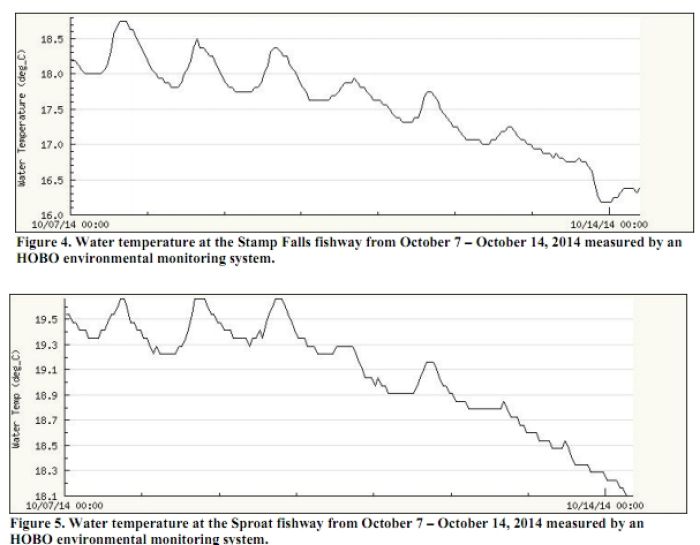 2014 Regulations:

The detailed 2014 fishing regulations for the Stamp and Somass can be found online at the DFO website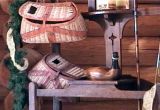 Fall Stamp River Fishing Options
Options range from simple guided day trips to all inclusive packages including meals and accommodations. You set the agenda based on how many days you would like to fish!
Trip Details »
We offer accommodation, all meals in our guided packages as well as the best guides around. We supply all the equipment and everything you need for a successful day. Sign up for our newsletter, or like us on Facebook and you will always have the latest information.
David and Marilyn Murphy (brother and sister team)
Call anytime for the latest conditions and reports
250-723-8022
murphy@island.net
---