Stamp River & Area Streams in Great Shape
Chinook & Chum & Steelhead
Oct 8 2015
Greetings from Port Alberni!
The river is completely open except for a small salmon closure from the top of the hatchery lagoon to the power lines that are located 500 meters upstream from the top of the lagoon. Starting to see a lot of Steelhead and that should get going very soon. We have a few good days with the fly this past week and once the rains come this weekend we will switch over to gear.
This fall has been great for Chinook and a very slow for Coho. The numbers of Coho counted through the Stamp falls counter has been fairly high but fish on the hooks has very low. Higher than normal flows for the last half of September have spread the Coho out and as you may know our Coho move very quickly making them a tough target. Our focus will change to Steelhead very soon and if you are thinking about Steelhead we have dates open!
Salmon Counts in River
Chinook: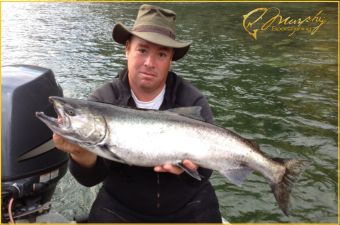 This fall there is Chinook retention opportunities in the Stamp and Somass Rivers.

The daily limit is one per day, both must be under 77cm which is about 15 pounds. The possession limit away from your permanent place of residence is twice the daily limit. Big Chinook must be released. Bait is allowed to be used in the river this year within certain sections. This will be a great bonus in getting into some quality Chinook! Gear fishing or fly fishing both are permitted.

Steelhead: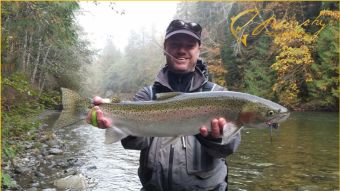 Since the Chinook have started to move into the upper river the Steelhead are out now looking to prey upon their eggs. Success this past week has been good with some great landings on the fly! If this is on your list we have space in the coming week to set you up. Look for Steelhead to stay aggressively feeding on the Salmon start to spawn through October.



Chum Salmon:



Some epic battles on the fly this year while anglers have encountered larger than normal Chum salmon. A catch and release fishery in the lower Stamp River and neighboring Rivers

.



Watch for more Chum to be moving in during the coming weeks.






2015 Regulations:

The detailed 2015 fishing regulations for the Stamp and Somass can be found online here.


This weeks weather forecast:




Stamp River Water Conditions (click on image to expand)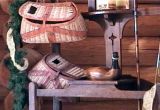 Fall Stamp River Fishing Options
Options range from simple guided day trips to all inclusive packages including meals and accommodations. You set the agenda based on how many days you would like to fish!
Trip Details »
We offer accommodation, all meals in our guided packages as well as the best guides around. We supply all the equipment and everything you need for a successful day. Sign up for our newsletter, or like us on Facebook and you will always have the latest information.
David and Marilyn Murphy (brother and sister team)
Call anytime for the latest conditions and reports
250-723-8022
murphy@island.net
---