Winter Steelhead - River Rising Quickly
Big Rains underway

Feb 7 2015


This Weeks Highlights


This past weekend we had the pleasure of hosting Kitty

Kanhoffen

and Rod Hsu from "fishingwithrod.com", a well known blogger on BC fishing.

Her story about the day on the Sproat River with guide Kevin Barabash is now available online.

There is going to be a full video webisode posted in the coming weeks as well.


The big fish keep presenting themselves so often now that it has become a trend, not just an anomaly.

Pictured on the left is guide Carey Evans with an absolute beauty Wild Winter Steelhead buck (male), it measured 37 inches and if nearing maturity with its very telling colours.

Nice Fish!


Current Conditions (as of Feb 7, 2015 9:34am)

The river is blown out now, its muddy and brown. We have cancelled our trips for Saturday and Sunday. Rain has lightened up this morning so will be open minded about Monday at this point.

The river is rising quickly as warm temperatures mean no snow accumulation and all the precipitation is running through the valleys quickly. You can see by the charts on our fishing report page where we are at already in the storm related to other high water events. As of the time of writing there is another 80 mm expected before it settles down. The brunt of the storm however is missing us and tracking a little south. Local weather experts think we may not get 80 MM but will see.

Remember the more rain, the higher the river further down stream. Try to fish near cleaner ribbons where clean creeks may be meeting the main river. Steelhead will move into the clean seams during high water events. Up size your gear in both size of bait/lure and more weight, a heavier leader is in order as well since there is more current to fight against.

If you take a look at the 90 day graph on our fishing report page it gives you a good idea of where we are in the long term trend. The last big rain event which looked marginal ended up being a great two days of fishing with high encounter rates.

One thing for sure is that with every high water event so far this season we have seen a good push of fresh fish in with it...

Stay tuned...will update again Saturday if conditions change.

The river conditions graphs below are generated from the upper system near Robertson Creek Hatchery. The lower system is generally higher and has more color, however this data is still very useful as it will indicate the trend. The Stamp Falls data system was wiped out with the past flood and not hearing of any immediate plans for replacement.

Call us anytime for the latest conditions! We enjoy helping anglers plan their trips with or without guides.

This weeks weather forecast:


Stamp River Water Conditions (click on image to expand)

*Below are conditions for the Upper River. Middle river monitoring equipment washed out with flood.



2014 Regulations:
Hatchery Steelhead may be retained. Two per day and 4 in possession is the limits. A Steelhead conservation endorsement is required on the fresh water license. All Wild Steelhead must be released. single barbless hooks required.

Also note that your licence has to be printed. An electronic format on a device such as an iPhone does not qualify as licence. Steelhead must be recorded on licence immediately upon landing them.

Here are snippets from the Regulations about The Stamp, Sproat and Ash Rivers.






The detailed 2014/15 Vancouver Island detailed fishing regulations are available for download in PDF format.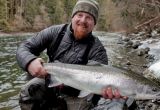 Winter Steelhead Fishing Options from $225
Fully guided day trips with all equipment. You set the agenda based on how many days you would like to fish!
Trip Details »
We offer accommodation, all meals in our guided packages as well as the best guides around. We supply all the equipment and everything you need for a successful day. Sign up for our newsletter, or like us on Facebook and you will always have the latest information.
David and Marilyn Murphy (brother and sister team)
Call anytime for the latest conditions and reports
250-723-8022
murphy@island.net
---