Stamp River Vancouver Island Fishing Report
Winter Steelhead
March 1 2016 (see March 5 river level update below)

This Weeks Highlights & First day of Spring!:

Last weeks conditions were great and had welcomed the lower freezing level and perfect river levels. Mixed rains started on Sunday with a really good downpour Sunday and part of Monday. Surprisingly the river levels have remained fairly static since we can see the snowline on the mountains.
Looking forward there is rain in the forecast all week. Today's rainfall was downgraded from 60mm to 30mm but there is another front coming in behind it. Different models are showing different amounts of rainfall, so its a wait and see. The river did come 10cm today.
*Mar 5 6:30am Update. River height and colour too extreme for fishing. 3.5 M. Saturday is now a day off as will be Sunday.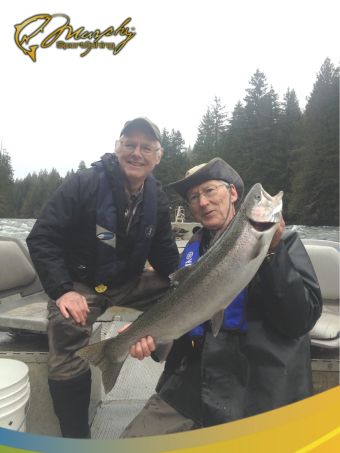 There are still fresh fish showing in the system and we are fishing the middle and lower sections of the Stamp and Somass.
This nice hatchery fish was kept today. 8 hookups all together - great day!
Weekends getting booked up.


Sunday March 6 boats available, March 12/13 Boats available
Weekdays lots of options available
(David not fishing this winter - sorry)

Guides:

Kevin Barabash
Shaun Evans
Carey Evans
Ken Meyers

River Conditions as of March 1 2016 (click to expand charts)
*Mar 2 12:19 pm update - River height now at 2.3, guys fishing today doing well. Water high and coloured but not blown out.



This weeks weather forecast: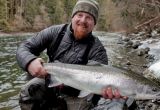 Winter Steelhead Fishing Options from $225
Fully guided day trips with all equipment. You set the agenda based on how many days you would like to fish!
Trip Details »
We offer accommodation, all meals in our guided packages as well as the best guides around. We supply all the equipment and everything you need for a successful day. Sign up for our newsletter, or like us on Facebook and you will always have the latest information.
Call anytime for the latest conditions and reports
250-723-8022
250-723-8022
murphy@island.net