Ucluelet Salmon and Halibut Fishing Report
May 30 2018
Nice Catch!


West Coast Vancouver Island 2018 Fishing Outlook / Regulations: Fishing as usual in areas 23-27 and 123-127 (Barkley, Clayoquot, Nootka, Kyuquot, Quatsino), similar to last years plans and regulations. Chinook, Coho, Halibut, Ling Cod all OPEN! Note: Yellow Eye Rockfish non-retention and changes to Halibut size limits.

Overview:

Its been a good few weeks with more Chinook and Halibut showing up. Ling Cod fishing has also been going well so far as well. Our fleet will be fishing Ucluelet until just after mid month, then moving up North to Kyuquot Sound.
Best lures have been #4 or #5 green coyote spoons with a long leader behind a bright green flasher. Fishing near the bottom. They have been soft biters often so it has been common to be missing a few fish! Be sure to speed up when trolling with the direction of the current.









The better fishing has been near shore this past week with some quality Chinook in the teens. So no need to be running way offshore for Chinook.

The Halibut fishing has picked up as well with some very nice perfect sized Halibut

The limit of Chinook Salmon on the West Coast of Vancouver Island is 2 per day and 4 in possession away from your home.

Halibut is 1 per day and 2 in possession away from home. Only 1 of the halibut in possession can be up to 115cm, the other halibut must be less than 83cm. These are both quality fish.

Get your fishing

licence online

!

Here is the list of available dates remaining in

Ucluelet

and

Kyuquot



More Details: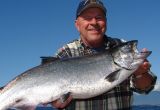 Ucluelet Guided Day Trips
Vancouver Islands best early season fishery for April and May. Salmon and Halibut aggressively feeding on the coastal banks and inshore waters of Barkley Sound. Book by the day means you can set your own agenda!
Trip Details »
Call anytime for the latest conditions and reports
250-723-8022
murphy@island.net
Professional Contributor to:
Fishtactics
~
Alberta Outdoorsmen Forum
~
Fishing with Rod
~
BC Outdoors Magazine