Stamp River Winter Steelhead Fishing Report
Jan 18 2017 - NOON **

Break in the long cold streak - welcome rain


The River has rose over 3 feet in the last 48 hours. We expect the river to continue to rise as the rainfall from the upper valleys make their way down hill. The majority of the rainfall is behind us now based on the latest forecasts. Wind Warning in effect now so could see some debris!


**Jan 19 8:30 update. Stamp at 2.8 and Sproat at 1.9. Not much more than yesterday at end of day. Will likely rise a little more today with snow melt from upper levels.



For context, this is not a flood like we had in November. The charts below are shown from late October to give you some context as to what the river levels are comparatively. Then the 7 day trend. The stamp river level equipment was out of service for late fall so not available to show the mid river trend that far back.

The Sproat river trends are also shown comparatively.

Stay tuned. We will update the graphs as condition change.

Boats have been getting into 1-2 fish per day, sometimes more and couple of days with none.

Still better than a day in the office!

| | | |
| --- | --- | --- |
| Upper Stamp River Long Term Trend | | Middle Stamp River Short Term Trend |
| | | |
| --- | --- | --- |
| Sproat River Long Term Trend | | Sproat River Short Term Trend |



Stamp River Area Winter Regulations - generally:
*see links to full set of legal regulations which apply.
Provincial Regulations + Region 1 Vancouver Island Specific Regulations
Single Barbless Hooks
Bait ban in middle and upper Stamp River above Girl Guide Falls (The bucket) 250 M above Beaver Creek
Bait ban in the Ash River
Bait can be used below the Girl Guide Falls on the Stamp River, The Somass and Sproat Rivers
No fishing in the Upper Stamp River from the confluence of the Ash River upstream to the Great Central Lake Dam from Jan 1 to April 30.
All Wild Steelhead and Wild Trout must be immediately released unharmed.
Your basic licence must be validated with a Steelhead Conservation Surcharge Stamp while fishing. Hatchery fish must be immediately recorded on the licence in ink upon landing.
The daily limit of Hatchery Steelhead & Trout (combined) is two. If you retain two hatchery steelhead from any water you must stop fishing for the remainder of the day.
Our services are now on the "Winter Program" which mean day charters are available with our without accommodations. We do provide accommodations for those who require them with a full breakfast and boxed lunches. For accommodations we use the West Coast River Lodge located at the confluence of the Stamp and Sproat Rivers.
Winter Steelhead are a distinct run of Steelhead that arrive to their home rivers during the months of December, January, February, March and leave during April.


The Stamp River System, is known as the SSS. Which stands for Stamp, Somass and Sproat Rivers. Collectively they have one of the largest returns of winter Steelhead in British Columbia and is considered by many the premier destination for catching these fish.



Is Winter Steelhead on your Bucket List?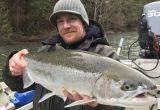 Winter Steelhead - Guided Day Trips
Fully guided day trips for two persons by jet boat includes all of the equipment.
Trip Details »
David and Marilyn Murphy (brother and sister team)
Call anytime for the latest conditions and reports
250-723-8022
murphy@island.net
Professional Contributor to:

Fishtactics
~
Alberta Outdoorsmen Forum
~
Fishing with Rod
~
BC Outdoors Magazine
---