Kyuquot Mid August Fishing Report
Welcome to "Faugust" - Great Fishing Conditions
We always look forward to the foggy days of early August. This annual event is predictable and brings soothing ease to the harsh afternoon Westerly winds which rock the coast seasonally. The past weeks weather has brought calm seas and ideal fishing conditions. There is been no impact to Kyuquot Sound by the mainland forest fires. With a peachy high level haze we were even able to enjoy the last full moon with its evening rise!
Fog, Fun and Fishing! This perfect halibut was in the large category which means fish under 133cm. This one was 52 pounds. Fish and Chips!
Salmon fishing offshore and inshore have been producing lots of medium size Chinook but no Tyees on this trip.
Coho have yet to show in mass in shore yet but any day!!! This fishery when it starts turns on like a light switch. We look forward to their immanent arrival.
The ground fishing remains good as well. The full moon this past week brought some pretty large tides. This means some big current movements which can make halibut fishing a little challenging. This week the tides are great so we look forward to more great catches.
A south east weather pattern is in the forecast and the fog is dissipating at the time of writing.
We always see a big movement of new fish with the august South Easter.
We look forward to the next three weeks of August peak season fishing!
Stay tuned for Tuna - Countdown is ON!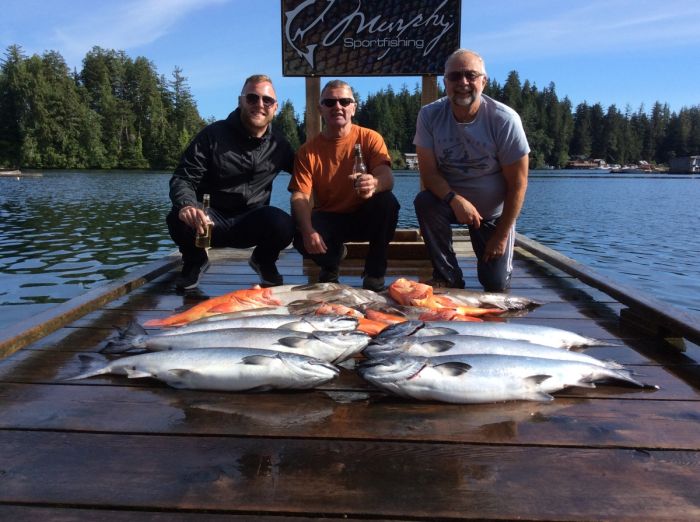 What a great trip!

---
This seasons regulations
This season Kyuquot has seen the same salmon fishing regulations as 2016 which worked very well for the fish and the fishermen. The benefits are two fold. First; more protection for local Kyuquot Chinook has been designed with the closure of Rugged Point. This specific area is known to hold big dark Chinook staging to head up inlet.
On the other side of the coin, an area previously managed as a slot limit, has now been opened up to normal limits of Chinook. The area from Thornton Island through Spring Island through Double Rocks are previously know as the "corridor". With big runs coming through, increased opportunities in this area will allow anglers to access those abundant migrating Chinook!
Halibut limits also remain the same as last year. The large fish can be up to 133cm (70 pounds -ish) and the small one no greater than 83cm.
BOOK YOUR TRIP
This year Kyuquot is selling out fast and with this incredible news its a season you really want to be a part of.
Call anytime, day or evening 250-723-8022
www.facebook.com/murphysportfishing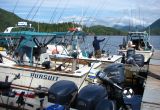 Kyuquot
On the Wild West Coast of Vancouver Island where the continental shelf meets the Island millions of Salmon migrate right by our doorsteps. You can be here too.
Trip Details »
David and Marilyn Murphy (brother and sister team)
Call anytime for the latest conditions and reports
250-723-8022
murphy@island.net
Professional Contributor to:

Fishtactics
~
Alberta Outdoorsmen Forum
~
Fishing with Rod
~
BC Outdoors Magazine
---