Stamp River Salmon Fishing Report
Oct 10 2016

River still moderate high
Overview:
The river came up 40cm with the last rainfall and although it is three days later it is still a similar height. It has cleared up somewhat.
Definitely better conditions for spin fishing than fly fishing. Lots of fish jumping in the pools and more Coho and Chum are moving in daily.
Regulations:
The daily limit is 4 salmon per day of which:
Two (2) may be Chinook of which only one (1) may be greater than 77 cm. in length, and
Two (2) may be coho, marked or unmarked.
DFO Fisheries Notice FN0865
(Regulations)
Weekly Weather Outlook

River Levels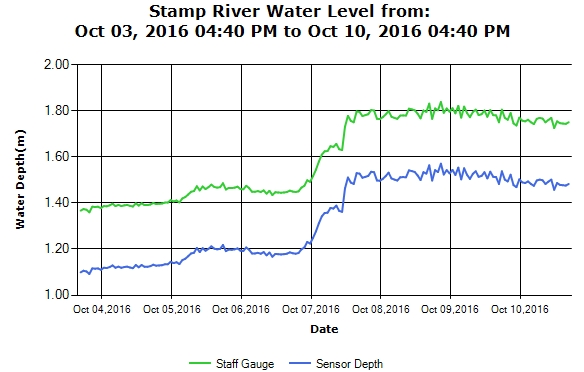 Book Your Trip
This year the Fall River Season is selling out fast and with of the size of the Coho, abundance of Chinook, its a season you really want to be a part of.
Call anytime, day or evening 250-723-8022
www.facebook.com/murphysportfishing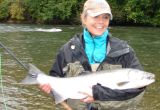 River Salmon & Steelhead Trips
Thousands of Salmon by your doorstep. Your package is customized to suit your schedule on your time. Five day specials including airfare or drive in day trips. Your trip - Your way - Great fishing and hospitality!
Trip Details »
David and Marilyn Murphy (brother and sister team)
Call anytime for the latest conditions and reports
250-723-8022
murphy@island.net
Professional Contributor to:

Fishtactics
~
Alberta Outdoorsmen Forum
~
Fishing with Rod
~
BC Outdoors Magazine
---