Stamp River Salmon Fishing Report
updated Oct 16 - 6am

Stamp is a big river now!
Overview:
Wave #3 has now passed and the big winds narrowly missed Port Alberni. We have managed to find a few cleaner smaller tributaries and have had some limited success in them. The main river is still blown out and it is currently raining heavy.
With the very limited opportunities available we cancelled the majority of our trips over the past weekend.
The BEST resource for local Port Alberni weather is
www.alberniweather.ca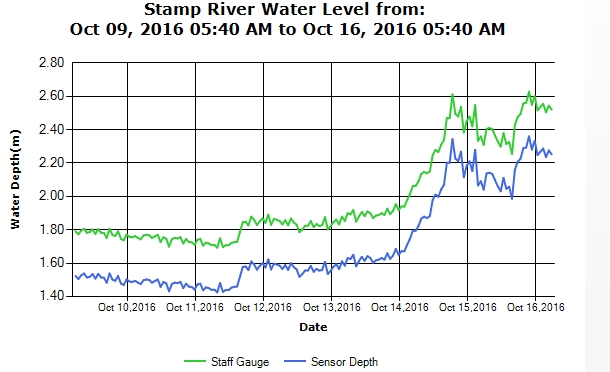 Weekly Weather Outlook

Regulations:
The daily limit is 4 salmon per day of which:
Two (2) may be Chinook of which only one (1) may be greater than 77 cm. in length, and
Two (2) may be coho, marked or unmarked.
DFO Fisheries Notice FN0865
(Regulations)

Book Your Trip
Available Dates
Call anytime, day or evening 250-723-8022
www.facebook.com/murphysportfishing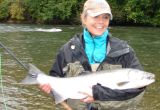 River Salmon & Steelhead Trips
Thousands of Salmon by your doorstep. Your package is customized to suit your schedule on your time. Five day specials including airfare or drive in day trips. Your trip - Your way - Great fishing and hospitality!
Trip Details »
David and Marilyn Murphy (brother and sister team)
Call anytime for the latest conditions and reports
250-723-8022
murphy@island.net
Professional Contributor to:

Fishtactics
~
Alberta Outdoorsmen Forum
~
Fishing with Rod
~
BC Outdoors Magazine
---