Stamp River Vancouver Island Fishing Report
Sept 9 2016
River open and fish are steaming through!
The daily limit is 4 salmon per day of which:
Two (2) may be Chinook of which only one (1) may be greater than 77 cm. in length, and
Two (2) may be coho, marked or unmarked.
DFO Fisheries Notice FN0865
(Regulations)

Chinook
Although the run size has been downgraded from super abundant to average the rains last week moved a lot of Chinook into the system already.

Coho
The run seems larger than predicted and size of the fish are the largest we have experienced. Some fish are pushing up against 20 pounds and lots in the mid teens. Its going to be one heck of a fall season with these Beast Coho in the system.
The rains last week pushed fish into the river on time.

We will provide a full update after this weekend of our personal fishing!

Our guided operations start on Monday Sept 12th with the Lodge opening on September 11th.
BOOK YOUR TRIP
This year the Fall River Season is selling out fast and by the looks of the size of the Coho, its a season you really want to be a part of.
Call anytime, day or evening 250-723-8022
www.facebook.com/murphysportfishing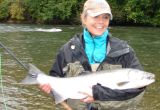 River Salmon & Steelhead Trips
Thousands of Salmon by your doorstep. Your package is customized to suit your schedule on your time. Five day specials including airfare or drive in day trips. Your trip - Your way - Great fishing and hospitality!
Trip Details »
David and Marilyn Murphy (brother and sister team)
Call anytime for the latest conditions and reports
250-723-8022
murphy@island.net
Professional Contributor to:

Fishtactics
~
Alberta Outdoorsmen Forum
~
Fishing with Rod
~
BC Outdoors Magazine
---