Kyuquot Vancouver Island Aug 18 Fishing Report

Chinook
The run so far has been about average compared to the last four years. It has not been the bump of the decade as predicted yet, but there is still time! We have had to work harder at it to get limits.

The wind this past three weeks has been strong daily which has hampered our far offshore reach. Looks like a change is coming this week which will be welcomed by all!

We have been using bait more often this past two weeks with long leaders. The Chinook have been plugged full of tiny bait, so small spoons and short squirt hootchies have also been producing.

Halibut
It has been an exceptional season for halibut. Nice averages in the overs in particular has provided some key volume for a lot of anglers coolers this season. The chickens have been the hard ones to find! They have been finicky off tide, but when they have come on they have been quality. Anchoring up and waiting for them to pick up the bait scent has been the best for the big ones, if you are willing to invest the time!

Coho
These beauties are just starting to show themselves. Nice size too. There was not an offshore presence of Coho yet this season so just some bonus ones here and there. They are starting to hit the shoreline now with a few a day surfacing within our Chinook fishing efforts.

Tuna
The Tuna water is starting to form just as expected and by the trend it should be on que for our Tuna trips which start next week. Stay ``Tuned``!

Regulations
This season Kyuquot has seen some welcome regulation changes to the area.

Chinook Salmon: The benefits are two fold. First; more protection for local Kyuquot Chinook has been designed with the new closure of Rugged Point. This specific area is known to hold big dark Chinook in season staging to head up inlet.

On the other side of the coin, an area previously managed as a slot limit, has now been opened up to normal limits of Chinook. The area from Thornton Island through Spring Island through Double Rocks are previously know as the "corridor". With abundant hatchery Chinook coming through, increased opportunities in this area will allow anglers to access those abundant migrating Chinook!

Coho Salmon: Offshore 2/day hatchery marked only. Inshore 2/day hatchery or wild retention. The offshore and inshore limits can not be combined.

Halibut limits have changed a little. The large fish can be up to 133cm (70 pounds -ish) and the small one no greater than 83cm.

Yellow Eye Rockfish limits have been reduced to 1 per day and 2 in possession. The limits are intended to provide by catch for halibut fishing.

DFO DETAILED REGULATIONS & MAPS

BOOK YOUR TRIP
This year Kyuquot is selling out fast and with this incredible news its a season you really want to be a part of.
Call anytime, day or evening 250-723-8022
www.facebook.com/murphysportfishing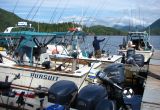 Kyuquot
On the Wild West Coast of Vancouver Island where the continental shelf meets the Island millions of Salmon migrate right by our doorsteps. You can be here too.
Trip Details »
David and Marilyn Murphy (brother and sister team)
Call anytime for the latest conditions and reports
250-723-8022
murphy@island.net
Professional Contributor to:

Fishtactics
~
Alberta Outdoorsmen Forum
~
Fishing with Rod
~
BC Outdoors Magazine
---